Superb Pedal Steel Guitars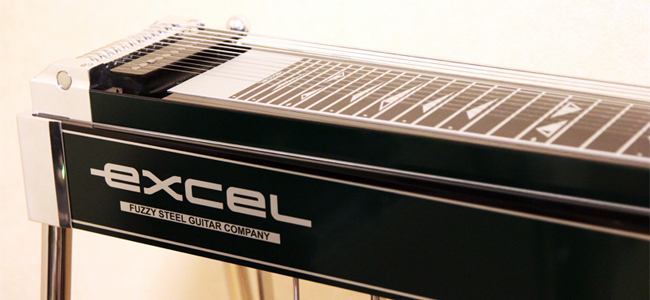 Fuzzy Pedal Steel Guitars have been evolving our products with daily research.
The newest model is our most accurate, improves the sound more than ever, and achieves unparalled tuning stability combined with high playability.
A special feature of our guitars is that when compared with traditional pedal steel guitars not made in Japan, ours is overwhelmingly lighter.
Our design makes it easy to add accessories such as a knee lever or floor pedal.
Lineup
Superb Model D10 (Keyless Double Neck 10 strings)
Superb Model S12 (Keyless Single Neck 12 Strings Universal Tuning)
Superb Model S10 (Keyless Single Neck 10 Strings E9th or C6th)
Special specifications such as a long neck and 14-string are also available in addition to this.
Check out our gallery for pictures of some pedal steel guitars that we make.
Superb Model (Keyless)
D10
S12
S10(E9th)
S10(C6th)
Neck
Double
Single
Single
Single
Strings
10(×2)
12
10
10
Floor Pedals
8
7
3
5
Knee Levers
4
4
4
2
Upper Vertical Levers
Option
Pickup
Original
Original
Original
Original
Length
24-1/8" scale (Option 25-1/2" scale)
Color
You can specify the color of each model you would like.
Case
Hard Case
---
New Keyless Tuner(2014Ver.)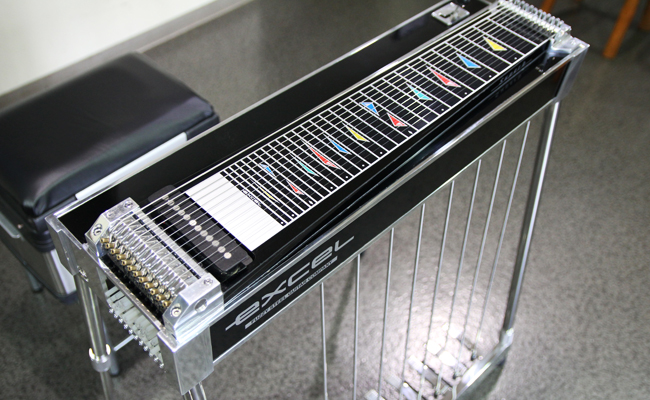 Excel Superb keyless tuner has evolved even more.
In the newest tuner, you can fine-tune the tuning from the head side.
Also tuning (re-tension of the strings) is possible on the changer side--you do not need to replace the strings even if the strings become loose.
It's now easier than ever to change the strings during recordings and live performances.
A special feature of our 2014 models is that they have high tuning accuracy and overwhelming lightness just like all our models.
We accept your order anytime. Please contact us about delivery date, specification or, for more information.
Contact us here
---
Instructions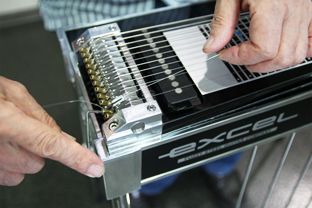 When you string a guitar, let the string put through from the head side, winding it around the post of the changer side.
You can use a tuning wrench or hex wrench for hoisting.
Pulling the strings with your other hand should be done while applying tension.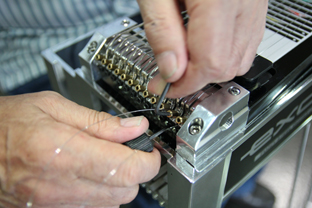 Now that you set the string tension, you can lock it with a hex wrench.
(Please hold down the portion of the post)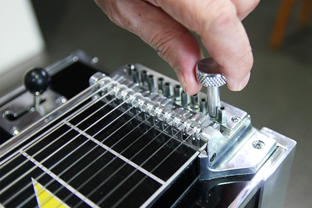 The final tuning would be done at the head side.
It is possible to tune by winding up again on the changer side, even if the strings are stretched out.
(You can enlarge Click on each photo)
---
Keyless Tuner(2013Ver.)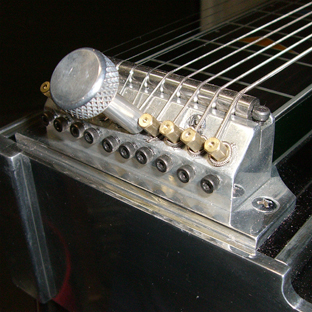 New Keyless Tuner 2013 Version.
We've replaced the head on our keyless models to support this feature.
Just like all our models, our keyless models are still as lightweight as ever and compact in size.
Keyless tuning practically eliminates the problem of returning to pitch when raising and lowering the same string.
Our new keyless tuning head is compatible with the previous model so that it is possible to replace the part.
Please contact us If you would like a replacement.
(Labor and parts charges will be applied in the case of exchange.)
Instructions